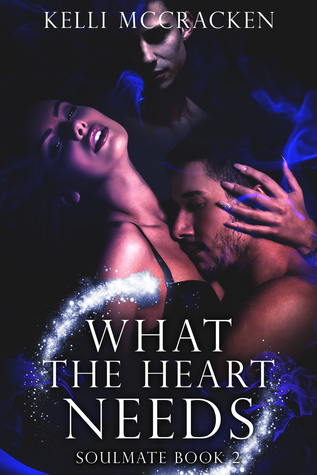 A secret pact. A reluctant hero. A twist of fate.Dylan McBride has one goal—to make Heaven Lewis his wife. Yet the soul connection they share isn't everything it seems. Something is interfering with his ability to sense Heaven's emotions, causing their empathic link to fluctuate. After a mysterious package arrives with an equally disturbing message, Dylan's fears become reA secret pact. A reluctant hero. A twist of fate.Dylan McBride has one goal—to make Heaven Lewis his wife. Yet the soul connection they share isn't everything it seems. Something is interfering with his ability to sense Heaven's emotions, causing their empathic link to fluctuate. After a mysterious package arrives with an equally disturbing message, Dylan's fears become reality. Someone wants to erase Heaven from his life.Layne is hell-bent on making things right with Heaven…for Dylan's sake. Agreeing to be her friend is part of his plan. The overwhelming need to be near her isn't. When Dylan enlists his help in protecting Heaven, Layne is torn between his duty to his friend and his desire for a woman he can never have. After all, Heaven is Dylan's fiancé.Heaven is adjusting to her newfound abilities only to discover they're evolving. As if psychic powers aren't enough to process, a truce with Layne ignites a connection that burns her soul-deep. Sensing his energy is only part of her dilemma. Someone is making threats on her life, threats that will unravel more than Heaven's happiness. They'll expose a family secret that may alter her destiny.What the Heart Needs is the second installment in the Soulmate Series. If you like alluring romances with suspense, soulmates, and supernatural twists, you'll love Kelli McCracken's compelling take on love, fate, and destiny.Buy this entrancing romance today!...
| | | |
| --- | --- | --- |
| Title | : | what the heart needs |
| Author | : | |
| Rating | : | |
| ISBN | : | 16092141 |
| Format Type | : | Nook |
| Number of Pages | : | 592 Pages |
| Status | : | Available For Download |
| Last checked | : | 21 Minutes ago! |
---
what the heart needs Reviews
Oh yeah it FINALLY came out! As I sat in my hotel room on a business trip in November 2012 reading this AWESOME book! I totally wanted to do this.. Dylan & Heaven are TOGETHER and getting ready to tell their family & friends that they are getting MARRIED!!! Yes, what a perfect time to get everyone together to tell them all and they can celebrate together! Well, it was A LOT of fun until Dylan's father shows up and when he confronts Heaven guess who is right there for her? Layne, YES HIM, and I was wanting to do this to Dylan's father..........................Layne seems to have developed feelings for Heaven! Boy oh Boy, doesn't this throw a wrench into everything. Is this the making for the end of Dylan & Heaven's relationship? Well, you can read this one and find out and I promise it's a bumpy, pot-holed filled ride with forces NO ONE expected, well perhaps some did, working against them! What happened between Faith & Layne? Faith's little "secret" about BLEW me out of my chair! It takes A LOT to get my lazy arse out of my reading chair but this almost did it! I so wanted to get my hands on Faith and totally.....................................................My heart literally broke for Layne! We see a different side to him. He so wants to protect Heaven from the person stalking her! YES SOMEONE WAS STALKING her! Wierd calls, feelings of being watched, and packages showing up! Who was it? Was it Dylan's father who obviously was against the marriage? Well, when you read this and find out you will do this too...................................................................Does Dylan & Heaven get their happily ever after? or is Layne part of the picture? Well, I will hint Layne is part of the picture and you can see just how he fits in Heaven's life. This book was chalk full of emotions from the get-go! Do NOT start this book in a lonely hotel room at 10 p.m. at night when you have to be at a meeting by 8 a.m. the next morning! THANK the Lord for Starbucks cause this one kept me up until 3 a.m. OH SO WORTH IT! I think for a good portion of the book I was like this...........................................some parts I seriously was freaking out like this..................when you get to this part, I can't tell you which part, but remember I told you it will make you do this like I did.........................remember that and YOU WILL KNOW which part! When certain events happen and things are revealed I'm sure I was doing this....................LOVE LOVE LOVE DYLAN & HEAVEN!!! I really do love them and I NOW love Layne just as much!!!!! OMG!!!!!!!!!!!!!! Loved it!!! Can't wait for 3rd book!!! This is totally me once I was done .....................Kelli's second book What the Heart Needs moved me more than the first! I'm in LOVE with this book! I experienced everything while reading it and I was biting my nails afraid certain things would happen and certain things wouldn't! Oh so vague ;) This is another more than 5 star read for me! I love Kelli's writing style and books I seriously cannot wait for the next book! The Soulmate Series is one series that I will BAWL my eyes out when it ends! If you haven't read the second book then you have to get this one NOW! I bought it the day it came out and gobbled it up so yes that leaves me waiting again but for Kelli I will wait! AWESOME AWESOME AWESOME book!

The best way I can describe this book is to compare it to a roller coaster....it starts off slow (click, click, click) building anticipation giving you just enough to keep you wanting more, turning each page (click, click click)...and just when you think you've figured it out (click, click, click), you've reached the top and the bottom falls out from under you and you're free falling into what you had no idea was headed your way. Then it starts all over again (click, click, click) building you up to another apex, only to have your stomach drop down again (WEEEEEEEEE!!!!). Now, I myself am not a fan of real roller coasters, but what I can tell you is that I will get on the Kelli McCracken roller coaster EVERY freakin' time!!!!So much happens in this book you can't really prepare yourself for everything. You have to give into the story, let it lead you on the journey...in the end, you will not regret it. The build up of what might come had me unable to put my kindle down. I took it in with me to blow dry my hair, I took it to my step-daughter's soccer game and read during warm ups and half time, I literally could not stop reading because I had to know what was going to happen. Was Nate McBride going to hurt Heaven? Would Layne break them up? Would Faith break them up? What was going on with Faith anyway? Would Dylan & Heaven make it to the alter...those were the just questions I started with and my list kept on growing as the reading continued. Let's just say, the things I said out loud (yup, I talk out loud while I read) were "Oh My God," "He did not just do that!" "She did not just do that" "You have GOT to be kidding me!" "I freakin' knew it!!!" and "AHHHHH!!!!!" "I know Dylan is special, he replied" - well guess what, I knew it too. I truly can't get enough of Dylan McBride...I mean he's a romantic rock star that goes against the stereotypes and wants to love Heaven forever...what's not to love!?! But this time (unlike the first book), I fell a little in love with Layne too. I can understand now why there are many Team Layne girls, a team which I think even Heaven would find herself cheering on because after book two, how could you not love Layne? This book was sexy, dangerous and consuming. It was frustrating, exciting and lovable. Where the first book was a love story that hinted at a supernatural connection, this book brought in a lot more of the who and what of the paranormal part of the story. I loved that it gave us some answers and still teased us with what could come. It left me wanting more, and that is never a bad thing to end a book with. I can't even imagine what Kelli has in store for us next, but what I can tell you is that I will definitely be getting on the ride!"The more we give in to what the heart wants, the more we get what the heart needs..." truer words were never spoken (or written as it were), you can't love with your head, you have to love with your heart...no matter where it leads you.

Honestly, there was a lot about this book that had me frustrated and annoyed. There clearly were way too many secrets be kept all around. I was sick of hearing someone say they would tell the whole story later or when they finished something else. It's like everyone knew the secrets that would solve the puzzle and problems in place but no one would share them. It's like their parents wanted the problems. I think it finally turned around and got better for me when Heaven ripped into them for this very idea. When she let them have it about keeping secrets that could solve all the problems she was going through I finally truly appreciated her character. That being said though, I did not get in the slightest why she decided afterwards that she wasn't sure if she wanted to marry Dylan and why she refused to even see her. I understood his reason for needing space from her, but there was absolutely no logic behind her needing or wanting space from him. I am intrigued by Faith's story line because clearly she is much more involved than she appears to be in this book, and while I am quite certain I have figured out who the father was I can't wait to see if my suspicions are right in the next book because I KNOW there is more to that story then told in this book. The reference to Layne's parents was a little annoying since beyond their names there was NO information at all about how they knew them or why it mattered who his parents were. Obviously I am going to venture that they were the third fated couple, but I still have no idea and that's just annoying. Now about Layne himself, I'm sick of the love-sick for Heaven thing since obviously nothing can come of it, and I really don't want to read any more about that because the pages of turmoil between Dylan and Heaven was more than enough for the entire series. Let them be happy and let Layne find his perfect match. Clearly I think it is supposed to hint that Layne and Faith were the unfortunate couple but I don't believe it. Truthfully, I think the unfortunate couple is Hope and Scott and that Layne has just yet to meet his mate (and I really hope that happens early on in book 3) but I may just be wrong, guess I won't know for at least another year =\ ugh.Overall, I really didn't like the beginning, I truly was frustrated and annoyed, but by the end I was very much into the story and was left wanting so much more (mostly in a good way). I will absolutely watch for book 3 and read it as soon as it arrives.

I thought this was a wonderful addition to this series. I really enjoyed the continuation of Dylan and Heaven's story. I think the only real downfall for me was how much emphasis was put on Layne's connection/feelings for Heaven. I understand why there is a connection, but I felt some of the things that happened really didn't need to happen. I felt it took away from Dylan and Heaven's love story. I also thought the paranormal aspect was alittle overwhelming. That is probably why I took off 1 star. I truly enjoyed the first book because the paranormal stuff was kind of in the background and in this one it was the forefront of the story and all it did was confuse me. It created questions that we never got the answers to. I am hoping that all things will be answered in the 3rd book. I have to say I truly hated Faith in this book...what a selfish biotch . I am really interested in finding out what her secret is but I am not sure if it will help to redeem her. I understand that things from her past might fuel some of her issues but some of the things she said and did to Layne and Heaven I felt were unforgivable. I am hoping that in the 3rd book we get to see more of Scott and Hope's relationship and learn more about Layne's parents. Overall I truly enjoyed this book. It made me feel so many different emotions and I LOVE when a book can do that.

Kelli does it again with book 2 of the Soulmate series! She's outdone herself with this one, packed full of intensity and heartwarming moments.Heaven and Dylan's journey gets a real workout in What the Heart Needs. The entire book had me on the edge of my seat, desperately trying to put it down to take a breather, but utterly incapable of doing so. Every time I thought I knew what was coming, another bomb would go off and smack me in the face. I just couldn't get enough! Kelli does a brilliant job bringing this book to a close, pulling the reader down from the adrenaline high that's provoked throughout the rest of the book. Sizzling romance, realistic struggles, wonderful story. I can't wait for the next one!~Rachel A Olson, Author~

Kelli took Dylan and Heaven on a path that I only hoped to see some of! She brought so much of reality to the story and yet had the right amount of paranormal influence! I am so sucked into Dylan and Heaven and am now drawn into Layne and yes, even Faith. I see so much more of a story coming to book three. Even though Kelli gave us some closure at the end of the book, my mind is still reeling from the revelations that I had about the different characters that I am anxiously waiting for book three. (I will bet I won't be able to put that one down either!) Kelli has made her characters so real that it is easy to get sucked into their lives! I wish they could make this story into a movie...it would be good!

This book exceeded my expectations and then some! The secrets only added to the suspense and made the revelations towards the end that much better! I loved the concept of the "keeper" and greatly hope that Dylan, Heaven, Layne, Delia, and the other characters start communicating with Kelli at a rapid pace so book 3 comes out sooner than later!! If it weren't for the illness ailing me when i started this book, i would have most definitely finished it in one sitting!

Love, love, loved this book!!! It answered so many questions and left me asking for more... Can't wait for the third book!!! This series has become an obsession!

hmmmmm, I think I just have a whole lot of hmmmm, lol, let me explain....Book 1 started out slow to me, then about 1/2 through things started happening and really got me into the book. So into the book that I was seriously excited about reading this one. I'm not sure if I built it up too much or what but I think I sort of just got disappointed with this one. It wasn't awful by far, it just couldn't hold my attention, which is the problem I had with book 1 too. Three twins, Heaven, Faith, and Hope went to LA for a wedding in book 1. They ended up deciding to stay longer. Heaven and Dylan had been dreaming of each other for years. To the point they had been looking for each other for years. Once they find each other and speak with Dylan's mom, they find out they are soul mates and were separated at birth. So in the beginning of book 2 they are planning their lives together. OF course that starts with a wedding announcement. One that Heaven is completely over the top stressed out about. Dylan is trying to calm her nerves through their connection, but things really just keep happening. There were parts about this book I really liked. The story line being one of them. I think this series, so far, has great potential to be really good. Especially with the way this book has gone and the way the next seems it will go. That whole Layne, Dylan, Heaven thing....yep could be so much intensity and drama. The thing is the characters seem to stay in their heads so much, that it makes the story seem to drag out a bit. I hate to say this, but I truly had to fight myself to not skim ahead to actual conversations. I didn't, but it was very tempting. :/ My one last flaw was Faith and Heaven. They are complete opposites, but at the same time just as annoying. Faith has not one redeeming quality unless being a total, utter bitch counts. She's the most selfish, self centered character I think I have ever read about in a book. She seriously thinks the world needs to revolve around her and anyone who doesn't bow down and worship she can just slap or try to destroy their lives, all because I believe she is jealous. I think there is going to be more to her, like she will have an ability too, but may be dark or something. Anyway, whatever it may be I hate her. Then, Heaven, is soooo whiny and needy. Everyone just falls all over themselves to protect her and then if she has to take care of anything alone she automatically wishes someone was there with her or relies on Dylan. My dislike of her maybe my fault. I tend to like stronger, bossy, independent chicks and Heaven just doesn't fit that bill for me. SO, to sum up, I didn't hate this book. I know I've said more negative than positive about it, but the story line is rather intriguing and I can't help but wonder where everything is going to go. It's paranormal but in a whole other light than what I'm used to reading. ARC provided by author in exchange for an honest review.

What The Heart Needs by Kelli McCrackenWhat The Heart Needs is the second book in the Soulmate series. I thought the first book was an amazing read, but this one is even better. I cannot wait to see what happens in the third installment of the series. Due to the bond that Dylan and Heaven have, they move extremely quick and for the most part, its okay with everyone. When it comes to their relationship almost everyone is on board except for Dylan's father. He stands in the way of their happiness and is a real threat to them. All the pieces of the puzzle start coming together and you figure out what each person's role is to one another. You also start figuring out why Kelli McCracken chose to have sci-fi elements in this book. With the first book, it seemed like too many writing styles were used, with this book, it seems like the author stuck with sci-fi, romance and a tad bit of YA. There were more adult-like situations, which were handled appropriately. The first book left you with a hangover, which I hate, but understand why they exist. The second book picked up beautifully from where the first left off, which I think is extremely important with series books. The author did not give a backstory of the first book in the second one, which was okay with me, since I just read the first one. At the same time, when I read series, sometimes I like to have a little recap at the beginning of each book.What The Heart Wants makes you become much closer to the characters. You really get to know the back story for Dylan and Heaven. You find out some deep dark secrets that Heaven has been hiding.This book will make your heart ache; it will make you want to ring the characters necks at times. You will want to scream and yell. When a book makes you want to show emotion and physically react to it, which is a great book in my opinion. One of the things I noticed with this book is that there are quite a few punctuation errors, more than there were in the first book. This leads me to believe that maybe the author was rushed. However, it was still a great book and it was easy enough to overlook the errors. I would most certainly recommend this book. It is an emotional book, one that I would definitely read again in the future. Nobody should hesitate to read this book. You will not regret reading What The Heart Needs.I received this book from the author in exchange for my honest review.

I loved Dylan and Heaven's story in first..this continues from the end of first one...we have more drama,twists and turns and some mind shattering revelations going on this one and i was pretty much shocked!Heaven is worried..she has no idea how will others react to her and Dylan's engagement and it's loose her night's sleep and effecting Dylan in process..not that this is enough...she's has to deal with emotional over load from other people with her new abilities and especially Layne whom she's feeling a pull she can't describe.Dylan's father may be just more than want Heaven out of Dylan's way..with faith's drama in between..the story goes through many twists making Heaven and Dylan face most of their hardships and when secrets that have been kept are opened ...there may be just more than heart-break.Can Dylan and Layne save Heaven before its too late?Can Layne sort out his feelings for heaven?Can Heaven forgive and move forward with Dylan?I am excited for next book eagerly..we have got so much revelations regarding their abilities and powers..and i can't wait to see who is that trying to come in between Heaven and Dylan.Sri.

2 and 1/2 but it is mainly because I absolutely love Dylan...otherwise it would have been a solid 2 stars.So very disappointing! I wish that "What the heart wants" had been a stand alone book, in that case I would have loved it and dreamed of it but as it happens it has this one to screw things up big time, it started off right but so many unnecessary lies, plots, secrets...all of them, even the secondary characters being "gifted" as if they would have been less important because of being "normal" Editing, my eyes went sore for so many grammar mistakes, she kept saying things like "had gave" and stuff like that, it was really annoying. We could guess the whole plot since page 10 I saw "the big revelation" at the end coming from miles back, could it be any more predictable? could they have been more insecure about the other one when we all know they shouldn't because as it is said like 100 times they are bound?Hell! I am pissed off, I absolutely adored the first book....Why??? WHYYYYYY DID YOU WRITE THIS ONE TOO?????

For this review and more go to livereadbreathe.blogspot.caSo. I do like this series but my major beef is the same I found in the first book because it is in a multiple POV story it can get very confusing on whose POV it is and sometime you have to re-read to realize who it is. I wish it was better stated which would create a better flow. But really that is my only real issue. The story and suspense is good and Kelli keeps you hanging on and waiting for more. I can't wait to find out how the story continues in the third book. In this book you are left with a few questions or I guess you could say dangling carrots of what is in store to come.I am so curious to find out what Dylan's dad and Heaven's sister are up to. Dylan and Heaven's relationship is enticing and strong. The chemistry is steamy and their soul bond is beautiful. In this story you find out way more history and the truth about how soul mates are meant to be. I truly do love the story of Dylan and Heaven.

Heaven and Dylan are ready to take the next step in their relationship but not if his father can help it. I love the connection between Heaven and Dylan. Faith is a royal pain who has some sort of secret she's keeping from everyone. Faith is always out to hurt everyone it seems. For being triplets, Faith doesn't seem to have a connection with her sisters. Layne becomes friend's with Heaven but he seems to have other feelings for her. Faith of course is out to hurt him the most. Heaven is someone everyone wants to be around. She's a good person. Her connection with Dylan is one where they can't be apart for too long. They're also keeping secrets from one another. Heaven's abilities are starting to change. She's developing more abilities where she can sense others aside from Dylan. Their parents have secrets we get to know about. At least some of the secrets, not all. Loved this story. It flows very nicely together. Highly recommend it.

This is one of the rare sequels (in my reading life) that I found superior to its predecessor and also it made me re-think my original opinion on the first book. The last thing I want to read is another paranormal romance (I'm paranormal'd out you guys) but damn if this sucker didn't ensnare me in its world. I give the author a lot of credit for creating a universe that I paid attention to instead of my usual gloss over of supernatural elements. And I did completely and totally love all of Layne's POV. I think I just love Layne in general, and I thought "the betrayal" (as such - no spoilers here) was really well crafted and realistic. I seriously cannot stop thinking about these characters so highly recommend the series.

This series just keeps getting better and better! I LOVE it.. but man what a way to leave you hanging for more! I love Dylan and Heaven and how the author writes about their love/bond for one another. Layne is a character that just grows on you and what you read about him in this book, I very much suspected it about him after you start learning more about Dylan and Heaven's lives. The paranormal type feel about this book is great b/c it is definitely not anything I have read about yet. Everyone is so used to Angels, Demons, and Vampires and that is why I love how Kelly made this different! I cannot wait to read the 3rd book and only hopes that it comes out soon b/c the suspense is killing!!!

Starts out slow but it builds & before long you are consumed with turning page after page, as fast as possible, to see what's about to happen. Parts of the book are frustrating (all the secrets, half revelations about the paranormal world, the partial love triangle portion, all things Faith, etc) but other parts are great (Heaven & Dylan, all things Layne, the love story, the plot, the concept & world created, etc). As the book progressed, I became consumed. By the end, I just wanted book 3 to be out already. I have to say, I think I like this book better than the first one.

Poor Heaven and Dylan, they just can't catch a break. How can two people who are created just for each other have such a hard time not having people try to keep them apart. This second book in the series gives us more detail about the couples strange pull to each other and their past. As well as getting to know some of the other characters better. I really enjoyed this book, so much so that I had to finish it and couldn't put it down.

The follow up to What the Heart Wants was just as good. I am not a fan of paranormal books but the love story in these books has me hooked. Another series like this is Seeing Shadows and Chasing Shadows by S.H. Kolee. I can't wait until the 3rd book in this series by Kelli McCracken though. I'm ready for Dylan and Heaven's love story to continue as well as learning more about Layne's abilities!

OMG. The ending was so beautifully sweet that I just had to read it over and over again. I really like the whole idea of a soulmate. How many people in a life can find one? Kelli, you create something that is beautifully and graceful book. Thank you. I'll definitely recommend this series to my friends around me!

So anything by Kelli has been amazing. I could not wait for this book to come out and I read it the first day it did. I was NOT disappointed. Many twists and turns and I absolutely am dying for the next book. The suspense is killing me to find out what is going to happen next and I am hoping all works out for the best!!

Oh My God! What a great book, it really keeps you on your heels! I am really looking forward to book three and what it has in store for Lane, Heaven, Dillon.. I bet it will be one hell of a roller coaster! Can't wait!!!!!!!!!

THIS BOOK WAS AMAZING!!!!!!!!!!!!!!!!I AM SO HAPPY THAT I WAS ABLE TO BE A PART OF THIS BOOK!!!!!!!!!!!!!!! Dylan and Heaven are the best couple EVER and I am totally in love with Layne...i wish he was mine....Faith shouldn't be such a bitch!! I cant wait for the 3rd book!!!

Really liking this series so far. Book two brought in more of the family and supernatural elements. Of course any questions answered just lead to more questions...which set the stage for book 3. Looking forward to whenever it comes out.

God I loved this book, every level of this book is amazing and I simply cannot wait until the 3rd. Especially after the way this one ended! I have some theories on what is going to happen but i'll keep them to myself since I dont want to give away any spoilers :)

This book was just as amazing as Want the Heart Wants. I absolutely couldn't put it down and truly enjoyed the ride. I love Heaven and Dylan and Layne. I can't wait until book 3 comes out to find out what is going to happen.

Kelli McCracken does it again, i love the What the Heart Needs book. I was a little mad at Layne, but as the story progress his feelings were explained. Can't wait for the next book to see what other abilities are discovered.

Just as good, if not better than the first one! Excited to learn more about all the people involved, and even curious as to how Faith will tie in, even though i can't stand her.

Great series. I can't wait for the next book

wow! Not normally my type of books but I loved both books and now I cannot wait for the third book to be Released. Great story!